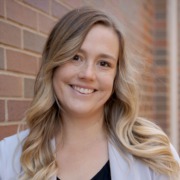 My goal as an agent is to make the buying/selling process as seamless and stress-free for you as possible. As a former high school teacher, I've learned that "listening to understand" instead of "to respond" builds an actual understanding of each other. Advocating for my clients is the forefront of everything I do as an agent. I've found that profitable conversation builds trust between us that becomes pivotal to our partnership.
I have been married to my husband Ryan for six years, and earlier this year we welcomed our daughter, Blair, into the world. Becoming a mom opened my eyes to every parent's want to secure their children's financial future. Building equity in real estate is such a great stepping stone to accomplishing this. My husband and I bought our first home about five years ago, and have absolutely loved renovating it and watching our equity increase. We know that equity means options and opportunities for her, and I love helping other parents move toward creating that for their family. My husband owns his own construction company, so I naturally see renovation potential and have a firm grasp on timeframes and costs of renovations which greatly help my clients visualize possibilities and how to potentially profit from their home the most.
From going to events and exploring downtown Grand Rapids to soaking in the sun on the lakeshore, I love being immersed and surrounded by the people here in West Michigan! Whether you are looking to upgrade, downsize, invest, flip, or sell your house so you can renovate a van and travel the country, I would love the opportunity to sit, chat, and see how I can help.
Call or text me to set up a no obligation meet and greet
Testimonials
As a first time home buyer, I could not have dreamed up a better person to work with during this tedious process. Emily is compassionate and genuine, but also knowledgeable and honest. She lead the way so confidently, I never would've guessed that she hasn't been doing this for YEARS already. I went to several open houses, and met dozens of real estate agents, all who contacted me afterwards with a copy/paste email or text that they likely sent to everyone else on their list. Though I had only met Emily briefly at an open house, she reached out quickly and was personable. She referenced specific things that I had only mentioned in passing if the few moments we spoke the previous day. And all the way from beginning to end, she took note of my reactions, requests, my commentary, and used that to personalize my home buying experience. I am more grateful for her than I could ever express!
Rhonda N.
Emily was an absolute joy to work with and exceeded all our expectations as our agent. She made the complex process of buying a home so simple and took it step by step with us. Emily really listened to our preferences and scheduled house showings according to our tastes. When looking at homes she really let us explore and get a feel for the home itself. We thought Emily did a fantastic job researching every house and it's condition before we stepped through the door. We highly recommend Emily! We will defiantly be contacting her in the future!!
Justin & Alicia R.
By far the best realtor that I have worked with. She is beyond dedicated to you and your needs. Her communication and skills are point on! She is very avaliable for your needs and wants and stuck through a long process with my family to get us our dream home!!
Rita S.